Porcelain and Ceramic Tile & Grout Services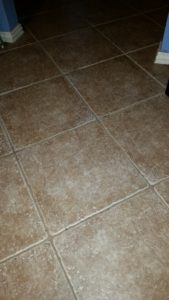 Often times we are asked what exactly is the difference between ceramic and porcelain tiles. They seem to be so similar that it can often be confusing to homeowners when selecting the most appropriate floor covering for their home and lifestyle.
Though the process of making both is similar, porcelain tile is more durable, moisture impervious and naturally resistant to stains than ceramic, while also available in a wider array of colors and designs. They are both made from natural materials and clay, porcelain is made from more refined materials and is fired at a higher temp and pressure within the kiln than ceramic. This creates a more dense tile.
Though different in creation, cleaning either stone type is very similar. Both will also eventually require professional deep cleaning, even with the most diligent maintenance and cleaning regimen. Professional services will restore the original color and appearance of both the tile as well as the grout lines. Sweeping, scrubbing and mopping will prove futile in time, especially where grout lines are concerned since their porous make up literally makes them dirt magnets. Wet mopping with recommended tile cleaners will only spread dirt, debris and oils, embedding further into the grout lines, making them look even more dirty and dull.
Porcelain and Ceramic Tile Polishing
If your thru-body Porcelain tile, tile that has the same color all the way through the tile instead of only on the surface, is looking dull and dingy, we can polish it after deep cleaning. This is a similar process that we perform on other natural stone tile. This is a permanent process and will not scratch or scuff off like waxes or coatings. Providing a true luster like when it was originally installed. We have performed this process on floors almost 100 years old and restored them to look good as new!
Porcelain and Ceramic Tile Hole & Crack Repair
We receive several calls per month from homeowners that have discovered cracks in their porcelain or ceramic tile floors. This can happen when a home and the concrete beneath it begins to settle. This will be a repeated issue if an anti-fracture membrane was not used during installation. Homeowners  also contact us when they have dropped something heavy on the floor and chipped or cracked a tile. These are frequent issues and usually can be solved quickly by one of our expert technicians. By using a color match epoxy to fill the holes/cracks then polishing the repair, the previous damage will be undetectable.
Porcelain and Ceramic Tile & Grout Cleaning
Our cleaning process has been safe and effective for 17 years on all types of tile and grout. We use the most effective grout sealants to protect the color and cleanliness of your grout lines and help repel dirt and grime. We also offer re-coloring services for your grout, if you would like to change the look of your floors without completely replacing the entire surface.
Professional deep cleaning not only improves the appearance of your floors, it also extends the lifespan of the tile. Over time, tile can become weakened by dirt and debris building up within the grout. With annual professional porcelain and ceramic tile cleaning, you will avoid the costly expense and hassle of replacing your floor coverings earlier than necessary.
Tile and grout cleaners purchased at retails store can only clean surface level dirt and debris while our professional equipment is stronger and more powerful and is the only way to get deep down into the porous grout and get a deep clean. Our state of the art, high-powered professional tile cleaning machines and products extract soil and debris from deep within the tile and grout. Bypassing professional cleaning for deeply soiled tile and grout will result in permanent discoloration and can only be remedied by re-coloring the grout.
Contact Us Today!
If your goal is to restore or maintain your porcelain or ceramic tile and grout to reflect the beauty they once possessed, call Orlando Stone Works today at 407-258-1190 or click here to receive your free quote.
A List of Our Professional Services Include:
Cleaning
Sealing
Polishing
Refinishing/ Honing/ Resurfacing (Surface Scratches and Etch Removal)
Restoration
Hole and Crack Repair
Etch and Stain removal