Saltillo Tile, Slate, Brick Services
Saltillo Tile Sealing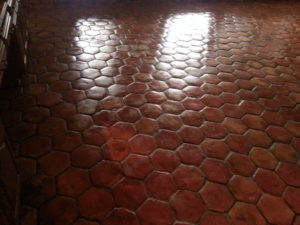 Real authentic hand molded, sun dried Saltillo tiles by true Mexican artisans, are hand crafted in Saltillo and Coahuila, Mexico.  A tradition for thousands of years. Their unique clay doesn't exist anywhere else in the world. Best known for their rich yellow to orange coloring, these Mexican works of art add a south of the border flair to any home or business.
Saltillo tiles, if properly cared for, can require minimal ongoing professional maintenance because their warm blend of colors conceals the appearance of dirt well. When they are sealed correctly, any soiling can safely be mopped with a mild blend of soap and water or by normal sweeping/vacuuming. Orlando Stone Works recommends sealing the saltillo as soon as possible after installation, if it has not already been done, ensuring it's protection as well as providing an elegant sheen to the tiles. Depending on the level of traffic on the tile, reapplication of the sealant may need to be done more often to retain the shine and protective layer on the stone.
Slate Cleaning & Sealing
Slate can be a beautiful choice for flooring, showers and other areas throughout your home or business. It's rich colors and natural texturing make a stunning statement. However, this can also make it more difficult to keep clean, especially along the natural cleave, or break of the stone where the tiles are uneven and where dirt and debris often build up. Getting this area clean can be challenging.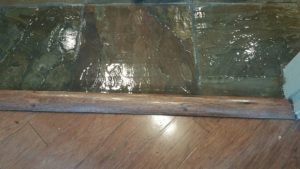 Most homeowners can maintain their slate floors and surfaces with regular sweeping, vacuuming, and mopping (using a flat mop). It is also beneficial to apply a pH neutral cleaner designed especially for natural stone. For a more indepth clean, it is best to enlist the services of a professional slate cleaning company. They will have the proper tools and training to bring out the best in your surfaces and protect them from the wear and tear of daily use.
Since slate is a porous stone, we always suggest an application of a color enhancing & penetrating sealer for the slate surfaces, after they have been deep cleaned. The sealer will prolong the clean look and feel, provide protection from scratches and stains, and it will also darken the stone, bringing out and enhancing the natural colors of the slate.
Brick Maintenance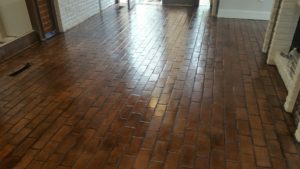 Brick is another unique and beautiful choice for flooring. It is also very porous and does require a sealant to be applied. This is usually done during the installation of the floor. Depending on the manufacturer, some are pre-finished with a powerful commercial sealant applied to the entire brick, while others are coated with a sealant once installed. Like anything else, over time and with regular use, it will need to be reapplied to continuing protecting it from staining.
Brick is a relatively low maintenance material. Weekly maintenance is usually all that is required if the brick is sealed properly. By sweeping or vacuuming regularly, you will help keep the surface free of debris.
It's fade proof elements also make this a fantastic choice, both in or out of the home. Unlike many flooring materials, you won't need to worry about sunlight bleaching or fading your brick pavers. This durable, hard surface is naturally fire proof as well, adding another layer of protection to your home or business. Indoors or out, brick is a great, low maintenance material that brings a wide range of colors, texture and style to any homes surface.
Contact Us Today!
If your goal is to restore or maintain your saltillo, mexican tile, spanish tile, slate & other flooring surfaces to reflect the beauty they once possessed, call Orlando Stone Works today at 407-258-1190 or click here to receive your free quote.
A List of Our Professional Services Include:
Cleaning
Sealing
Polishing
Grinding (Lippage Removal)
Refinishing/ Honing/ Resurfacing (Surface Scratches and Etch Removal)
Restoration
Hole and Crack Repair
Etch and Stain removal