Marble & Terrazzo Services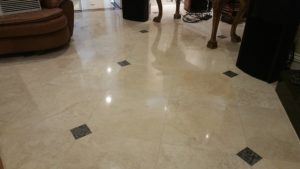 Marble is a metamorphic rock that forms when limestone is subjected to the heat and pressure of metamorphism. It is composed primarily of the mineral calcite (CaCO3) and usually contains other minerals, such as clay minerals, micas, quartz, pyrite, iron oxides, and graphite based on http://geology.com/rocks/marble.shtml.
Orlando Stone Works most commonly requested service is marble polishing. Providing your marble floor has been well maintained, it is possible you may be able to merely polish your marble floors or other surfaces to restore the beauty. Re-polishing marble does have its limitations.
By way of comparison, Terrazzo is a composite material, poured in place or precast, which is used for floor and wall treatments. It consists of chips of marble, quart, granite, glass, or other suitable material, poured with a cementitious binder (for chemical binding), polymeric (for physical binding) or a combination of both. https://en.wikipedia.org/wiki/Terrazzo The same process holds true for polishing Terrazzo floors as does marble floors.
Marble & Terrazzo Maintenance
Your lifestyle will largely dictate how your marble or terrazzo floors will need to be maintained. For example, if you have pets or young children, you will be required to maintain your floors differently than if there were only two adults in your home. Nonetheless, one of our professional Technicians will be able to advise you what process will achieve the results you seek and how to best maintain it in the coming years.
Marble & Terrazzo Restoration Services
There are different levels of restoration. One of the more intense marble restoration procedures is grinding lippage. This occurs when you notice some of your tiles are higher than others. Lippage is a result of a poor installation process. Plain and simple. Lippage removal should only be performed by a company that is highly trained. Orlando Stone Works has seen more than enough lippage removal cases performed by installers or others who simply do not have the requisite experience.
Most of the clients who call us tell us about the dull areas in their traffic areas. Does this describe your problem, too? These dull areas are most often associated with what is referred to as wear patterns, etching and surface scratches. Orlando Stone Works can eliminate these issues by utilizing our honing and polishing process. Honing is merely the process of sanding [most often with a wet process so no dust is involved] the stone down to a matte finish. There are various degrees of honed. We achieve honing through diamond abrasive pads, diamond impregnated pads or a combination of abrasive compounds with our floor machine.
Marble & Terrazzo Chip & Crack Repairs
Do your Marble or Terrazzo floors have a chip, crack or broken tile? Frequently, we can repair your tile and blend it in with the adjacent tiles to make it like new. Our trained Technician will be able to inform you of the results you can expect in your particular situation.
Marble & Terrazzo Grout Cleaning & Restoration
It cannot be denied that your grout undeniably influences how your marble floor, counter-top etc. will ultimately look when all is said and done. Orlando Stone Works is able to clean, restore, replace or repair your grout as your situation dictates so we can achieve the finished appearance you desire to complement your home or business.
Contact Us Today!
If your goal is to restore or maintain your marble or terrazzo surfaces to reflect the beauty they once possessed, call Orlando Stone Works today at 407-258-1190 or click here to receive your free quote.
A List of Our Professional Services Include:
Cleaning
Sealing
Polishing
Grinding (Lippage Removal)
Refinishing/ Honing/ Resurfacing (Surface Scratches and Etch Removal)
Restoration
Hole and Crack Repair
Etch and Stain removal