Limestone Services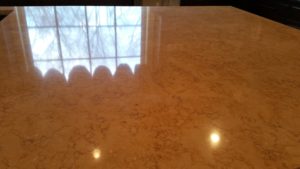 Limestone has its own unique and elegant appeal. Limestone is a sedimentary rock, composed mainly of skeletal fragments of marine organisms as stated by Wikipedia. If you look closely at  limestone, you can usually see fossil fragments (for example, bits of shell) held together by a calcite matrix. Limestone is more porous than marble, because there are small openings between the fossil fragments. https://pubs.usgs.gov/gip/acidrain/4.html
Limestone Polishing and Honing
Orlando Stone Works clients who have limestone most often request limestone honing or polishing. If your floor or other surface has been well maintained, you may be able to get by with polishing and cleaning your limestone. Polishing limestone or any natural stone does have its limitations. Some varieties of limestone look much better with a honed finish. Honed can be best described as the process of sanding or taking the limestone down to a very basic matte finish. Honing is most often achieved by means of a wet environment, so you do not have the associated dust.
By comparison, depending on your variety of limestone polishing your limestone will provide a very elegant look which can leave your limestone looking like a glass mirror. Our Diamond Polishing process can achieve this at a mere fraction of what a brand new installation would cost. Our professional Technician will be able to provide more specifics of what may be best with your particular circumstances.
Limestone Cleaning
As a result of most limestone being softer than its natural stone counterparts, a honed version of limestone when not properly maintained may require more than mere cleaning to restore it to its original beauty. In that case, often using honing compounds will achieve the purpose with excellent results. When cleaning your limestone floor tile we most often employ the use of our state-of-the-art high pressure [up to 1200 psi] extraction unit to provide maximum soil removal.
Limestone Restoration
There are different levels of limestone restoration available depending on your goals. The most aggressive process of grinding lippage [uneven tiles] is a common complaint with our clients. In most circles of the industry anything above 1/64" of lippage is unacceptable. Lippage is almost always caused by a poor installation. Where the foundation of a house shifts, this too, can create uneven tiles and cracks. Factors such as the type of subfloor will influence the installation, how the installer mixes his thin set etc. Removing lippage can totally transform the appearance of your home or business and significantly reduce future costs.
Limestone Sealing
Orlando Stone Works uses only the highest grade penetrating (impregnating) solvent based sealers to seal your limestone floor tile and other surfaces. A sealers purpose is for the sealer to absorb into the pores of the limestone and fill them up. Pores that are filled assist in keeping spills on the surface so they won't as quickly soak in. Obviously while the market does not offer any sealer to make your limestone or other natural stone surface bulletproof, our sealer will go a long way towards minimizing acidic spills from etching the surface. You will be best served in keeping your limestone floor tiles and other surfaces properly sealed.
Limestone Crack and Hole Repair
Does your limestone floor tile or other surface have a crack or hole that needs repairing? Often times, we can repair these problems to blend in with adjacent areas. Our Technician will be able to advise you what results you can expect in your circumstances.
Limestone Grout Restoration

It cannot be denied that your grout undeniably influences how your limestone floor, counter-top etc. will ultimately look when all is said and done. Orlando Stone Works is able to clean, restore, replace or repair your grout as your situation dictates so we can achieve the finished appearance you desire to complement your home or business.
Contact Us Today!
If your goal is to restore or maintain your Limestone surfaces to reflect the beauty they once possessed, call Orlando Stone Works today at 407-258-1190 or click here to receive your free quote.
A List of Our Professional Services Include:
Cleaning
Sealing
Polishing
Grinding (Lippage Removal)
Refinishing/ Honing/ Resurfacing (Surface Scratches and Etch Removal)
Restoration
Hole and Crack Repair
Etch and Stain removal