Granite Services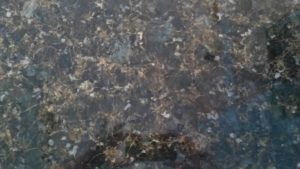 Granite is a light-colored igneous rock with grains large enough to be visible with the unaided eye. It forms from the slow crystallization of magma below Earth's surface. Granite is composed mainly of quartz and feldspar with minor amounts of mica, amphiboles, and other minerals. This mineral composition usually gives granite a red, pink, gray, or white color with dark mineral grains visible throughout the rock according to geology.com.
Granite is an exquisite natural stone that is as durable as it is beautiful. With it's natural stain resistance and ease of care, it is no wonder so many homes and businesses choose granite for their counter tops. That is not the only place you will see granite now days. It has a multitude of uses throughout a home or office. From exterior architecture to fireplaces, floors and walls, back splashes, tub surrounds, showers and vanities. Granite is no longer just for bathrooms or kitchens. Granite is one of the hardest natural stone surfaces available, it can resist most abrasions and weathering, withstand significant weight, and it can be polished to a brilliant shine. Characteristics which make this stone so desirable to homeowners.
Orlando Stone Works is highly skilled in granite cleaning and restoration. Though we do recommend to our clients to perform daily cleaning and maintenance of their granite surfaces themselves, over time professional services are still required to maximize the lifespan and regain the impressions of elegance, durability, and lasting quality of this million year old material.
Granite Chip, Scratch & Crack Repair
Damage to granite is usually rare since it is such a durable stone, however, if any damage has occurred, it can easily be repaired and sealed. We use a blend of epoxy and grounded granite chips to repair the counter top or other granite surface? Our technicians have the experience to virtually eliminate any chip or scratch and can restore a broken piece of your granite counter top or other surface, restoring it to a like new appearance.
Granite Polishing
Granite looking a little dull? Have you found etch marks or dull spots? We can restore its original appearance by performing a time consuming and painstaking process of granite polishing.  With the stone being so dense, it demands 10 X's the honing process as marble does, especially for the darker colored granites such as red or black since they are far denser than their lighter counterparts. The craftsmen of Orlando Stone Works are masters of the art of effective granite polishing.
Granite Sealing
It is important, with any type of natural stone, to preserve and protect it's natural beauty for as long as possible. Orlando Stone Works recommends using a penetrating sealer on any granite surfaces to guarantee a more thorough protection from dulling and stains than you can achieve from a simple coating sealant. Visit our Stone Care Tips page often for up to date care information of your granite or other natural stone surfaces. We strive to always provide relevant and updated information so we can deliver the best results for our clients!
Contact Us Today!
If your goal is to restore or maintain your granite surfaces to reflect the beauty they once possessed, call Orlando Stone Works today at 407-258-1190 or click here to receive your free quote.
A List of Our Professional Services Include:
Cleaning
Sealing
Polishing
Grinding (Lippage Removal)
Refinishing/ Honing/ Resurfacing (Surface Scratches and Etch Removal)
Restoration
Hole and Crack Repair
Etch and Stain removal